You participate from home
Anne´s International School of Art´s 
online course:
It's Alive!
Create your own needle felted creature with Art Doll
extraordinaire, Kylie Dexter

In English + English subtitles
In this special course, internationally exhibiting art doll creator Kylie Dexter (a.k.a Dolldrums) will teach you how to needle felt your own creatures with coloured wool.
By the end of this course, you will have the knowledge and experience to create your own unique  and magnificent, three-dimensional creatures.
You can make your creatures funny, happy, sad or something completely different - you decide for yourself.
Your only limit is your imagination!
This step-by-step course is perfect for beginners, and Kylie's expert advice will guide you through the knowledge and techniques you will need to know.
This is an easy and - most importantly - fun way to learn about the world of 3D needle felting, a craft which is notoriously soothing and addictive at the same time.
Everything you need to know
"With this course, you will learn everything you need to know to start – or develop – your needle felting journey.
The techniques and knowledge shared will give you the foundations to create an endless array of different characters of all shapes and sizes.
From small, personalized gifts, to intricate art dolls, or even recreating your favourite character or person: it is all possible!"
In this six-part, easy-to-follow course,
you will learn:
⁕ What, exactly, is felting?
⁕ The different tools and materials needed for felting: the different options available, advice on Kylie's personal recommendations, and where to purchase them.
⁕ The basic techniques when felting, and easy projects to practice these skills. (You may find yourself making perfect little gifts for your loved ones along the way!)
⁕ How to felt using stencils, before moving on to mastering free-hand shapes.
⁕ How to create details when felting.
⁕ How to make an armature and build your design around this.
⁕ And finally, how to use all of these skills to create your very own family of art dolls.
"Anything is possible.
It's time to let your imagination run wild!"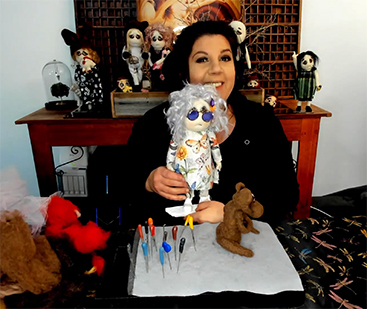 Your dedicated teacher
Based in Australia, Kylie Dexter is a needle felt art doll extraordinaire.
Under her artist name Dolldrums, her work has been shown in local and international Galleries including:
Dollirium Art doll emporium, ArtBoy Gallery (Prahran), MONA gallery shop (Tasmania), Arch Enemy Arts (Philadelphia), Cactus Gallery (LA), The Old Jaffa Museum (Israel), The Good Goat Gallery (Ohio), Weswal Gallery (USA), Penumbra Gallery (Portugal), and Beautiful Bizarre Magazine's curated show at Modern Eden Gallery (San Francisco)!
Dolldrums has also been published in ADQ magazine as a featured artist, as well as Damaged magazine, Doll Collector, a Beautiful Bizarre Magazine web feature, and Mornington Life magazines.
In her own words:
"When I first started making these dolls, I wanted to give life to a world that existed in my imagination; it was a vivid and very real world that formed early in my childhood.
A world filled with distinct characters, lifelike dreams and strange experiences.
When I first experienced movies like The Dark Crystal, Never Ending Story and Labyrinth in my pre-teen years, it ignited a passion to bring life to puppet-like characters - although it would take many more years to fully realise my vision.
I draw inspiration from anything the evokes a sense of mystery. And I think it's time to restore a balance within the artistry of dolls."
Feedback and Peer Support
Inside the art school's amazing forum, you can get all of the feedback you want.
We have highly competent artists who are moderators within the forum. This means that you are always guaranteed a safe and pleasant environment, constructive discussions, and answers to your questions.
Our forum creates a unique atmosphere and place for knowledge sharing that you won't find anywhere else.
While our forum at Anne's International School of Art is still growing in these early days of us opening, our Danish sister school's forum has been running successfully for many years.
You can see here what Torill Loebenstein, a visual artist and member of our sister school, tells us about the forum:
"If you use the forum inside the art school to bounce ideas off other members and gain feedback, you can easily get the same benefit as if you had participated in a physical course.
This does require that you can formulate what you would like feedback on. Thankfully, the art school even has a small tutorial video on that!
I would recommend the art school to anyone who wants to learn more and wants to move, as well as to get new inspiration for their artistic activities."
You learn it all at home
– no matter where you live in the world
You will have full access to the entire course IMMEDIATELY after your registration.
The course takes place online, so you will be able to access and watch them on your own computer, iPad or tablet.
Therefore, you can join us wherever you are in the world, as long as you have an Internet connection.
How do you participate in the course?
Simply join Anne's International School of Art.
Immediately after you have registered for the art school, you will receive a welcome email with direct links and your personal login to everything.
You can read more about the art school further down the page here.
Yes!
I am interested!
I would love to learn about the amazing world of needle felting!

Not yet a member of
Anne's International School of Art?
No problem! Just sign up right here:
Immediately after you register for the art school, you will receive a welcome email with direct links and your personal login to the member pages where you will find the course.
About Anne's International School of Art
Anne's International School of Art is an online haven of inspiration and learning.
Immediately upon enrolling in the art school, you will receive full access to a cornucopia of educational and inspiring material on the member pages, as well as access to this unique course.
Click here to see everything else that you also get access to IMMEDIATELY after you join.
As a member, you will enjoy new tutorials on the member pages every single month – plus, you automatically get access to our special courses as and when we open for registrations for them.
Therefore, you never have to worry about missing out.
The courses automatically appear on your personal course overview, and on the membership home page, you can always get an overview of all the latest on the member pages.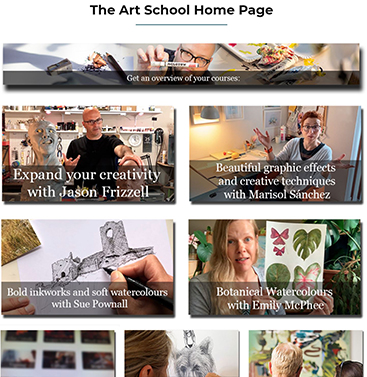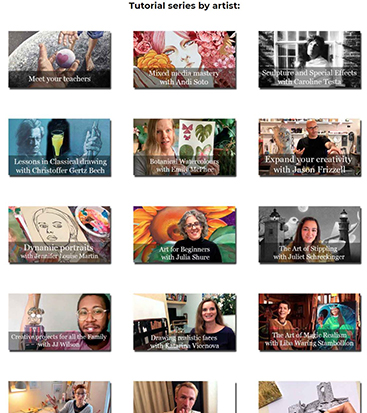 Have a question?
If you have any questions at all, feel free to write to us at:
 But first, please read our answers to frequently asked questions below:
➞ When do I get access to the course?
You will gain full access to the course, as well as access to all of the material on the art school's membership pages, as soon as you sign up to join Anne's International School of Art.
If you are already a member of the art school, you already have access to the courses when registrations are open. You will find the courses right here.
➞ Do I have to show my art to you and/or to other members?
It's 100% up to you if you want to share any of your works.
As part of the art school, we have a special forum for members where you are more than welcome to share photos of your work – however, this is entirely voluntary.
In the forum you can see what others share and you have ample opportunity to discuss experiences and ideas with the other participants about the different modules.
Experiences are shared and feedback is provided and developed together, so it's very rewarding to join in.
➞ I don't have the time to complete the course until a few weeks' time. Can I still do it?
Most definitely yes! As long as you are still a member of Anne's International School of Art (in other words, you have an active membership), you have access to all of the courses you are enrolled in.
This means that you can enjoy them in your own time, whenever you are ready.
➞ How much does it cost?
You choose the price model that suits you best.
Our most popular price model has a 6 months commitment and is only USD$ 22 per month. The membership will be renewed monthly at the same price until the membership is cancelled.
When you are a member of the art school, you can participate in ALL of the additional online courses etc. that we offer - in addition to the new material that enters the art school every month.
In Anne's International School of Art, there is NEVER anything that costs extra.
➞ So what is the process once I sign up?
Immediately after registering, you will receive a welcome email with your personal login details to the art school member pages, where you will find everything.
➞ How do I renew or discontinue my membership?
Your membership starts on the date that you register.
The membership is automatically renewed monthly at that same price until you choose to cancel it yourself.
The membership fee is paid monthly on the same day of the month as the day you sign up.
You can discontinue your membership by writing to us at: support@annesartschool.com  Simply write to us no later than one business day before your membership is due to renew.