Participate from your own home with ease
Anne´s International School of Art´s online course:
Learn the art of
organic free flow painting
with your brilliant teacher, the master himself
(by name and by nature):
Mark Masters
In English + English subtitles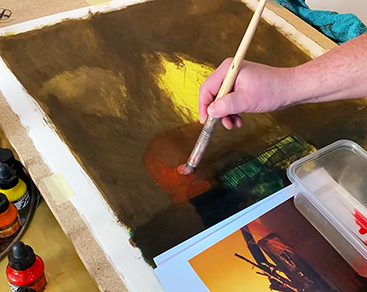 The white canvas:
right there, in front of you.
White.
Completely white and empty.
What to create?
…
It can sometimes be a tough nut to crack.
…
BUT
It doesn´t have to be the case anymore.
Because in our extremely exciting and educational course:
"Learn the art of organic free flow painting" with the brilliant artist and teacher, Mark Masters,
- Mark Masters guides you all the way from the white canvas to your finished painting.
Taught by mixed media artist Mark Masters, this course will give you the opportunity to learn how to let go of your inhibitions when planning.
You will explore a series of techniques to organically develop your creative processes while experimenting with many different mediums.
Focussing on abstract forms, you will delve into free flow painting to unlock new depths of creativity.
→ Say no more!
- I must definitely become a member and get started on the organic free flow painting course.
Please send me directly to the registration page. →
No matter what level you are at as an artist, the technique of organic free flow painting ensures a never-ending opportunity of new discoveries to be made.
It is the perfect way to see the world – and how to create art – in a new light!
To top it off, you don't need a whole host of expensive materials or objects to take part.
All you will need is:
⦁ Good quality smooth finish watercolour paper (the thicker, the better)
⦁ A handful of coloured drawing inks of your choice (choose some light, some dark)
⦁ A putty eraser (also known as an art eraser / kneadable putty eraser)
⦁ Charcoal drawing pencils (ideally a soft, medium and hard so you can play with different textures)
⦁ Chalk pencils
⦁ Coloured drawing pencils (colours of your choice)
⦁ Different size brushes of your choice
⦁ A ruler
And even if you do not already have all the materials, you can easily get started with less.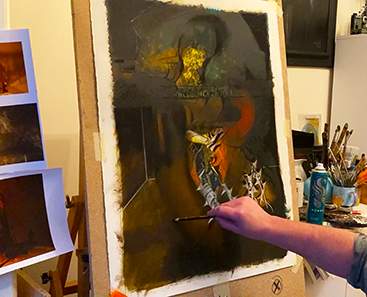 In this six-part, easy-to-follow course, you will:
①
Gain important knowledge that you can transfer to your entire artistic practice. This includes:
 ➤ Learning how to find inspiration and build new ideas using everyday objects that you already own.
 ➤ Receive advice on different art materials and their properties.
 ➤ Gain insight into some prevalent artists to further your knowledge and inspiration.
②
Benefit from practical advice and experience to expand your horizons:
 ➤ Enjoy a host of tips and tricks on how to transform ANYTHING into something new - including how to utilize vantage points, size, scale and lighting, and break down objects into textures and forms. Understand how to play and create unique subjects to capture in your art!


➤ Learn how to build up layers and enjoy the process of erasing and re-drawing to unveil your own unique designs. Enjoy the freedom found within the process of experimenting!
 ➤ Understand more about using inks and how they work with other mediums, and how to manipulate the materials in front of you to create new forms.
 ➤ Build your new-found skills by creating your own, personal work. This is not a watch-and-copy course – it is so much more. By watching Mark Masters and learning what he does, you will be encouraged to emulate his approach with your own personal twist - experiment, and producing a unique painting of your own by the end of the course!
Your dedicated teacher
Stating Piranesi, Francis Bacon and Graham Sutherland as influences, Mark Masters' work is often based on nature and natural ephemera.
He uses these overarching themes as metaphors to generate an emotive response to his subject matters, often through surreal and abstract paintings.
After exhibiting in multiple galleries over the past decade, Mark has also recently had his first book published by the International Confederation of Art Critics, entitled 'Let's Unfinish What We're Seeing.'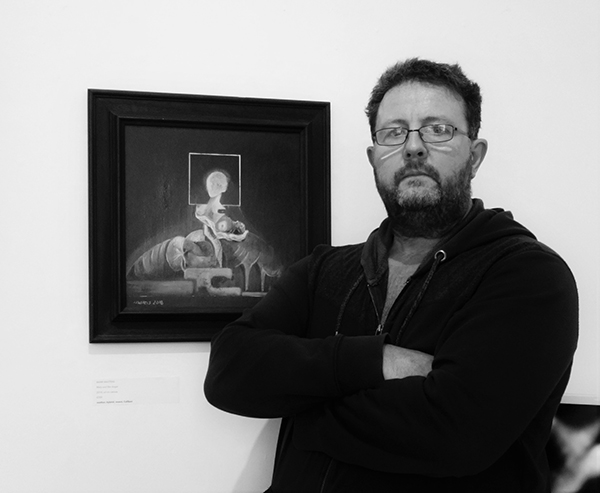 Feedback and Peer Support
Inside the art school's amazing forum, you can get all of the feedback you want.
We have highly competent artists who are moderators within the forum. This means that you are always guaranteed a safe and pleasant environment, constructive discussions, and answers to your questions.
Our forum creates a unique atmosphere and place for knowledge sharing that you won't find anywhere else.
While our forum at Anne's International School of Art is still growing in these early days of us opening, our Danish sister school's forum has been running successfully for many years.
You can see here what Torill Loebenstein, a visual artist and member of our sister school, tells us about the forum:
"If you use the forum inside the art school to bounce ideas off other members and gain feedback, you can easily get the same benefit as if you had participated in a physical course.
This does require that you can formulate what you would like feedback on. Thankfully, the art school even has a small tutorial video on that!
I would recommend the art school to anyone who wants to learn more and wants to move, as well as to get new inspiration for their artistic activities."
You learn it all at home
– no matter where you live in the world
You will have full access to the entire course IMMEDIATELY after your registration.
The course takes place online, so you will be able to access and watch them on your own computer, iPad or tablet.
Therefore, you can join us wherever you are in the world, as long as you have an Internet connection.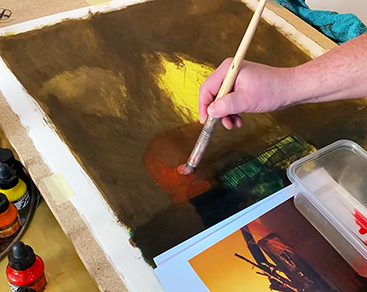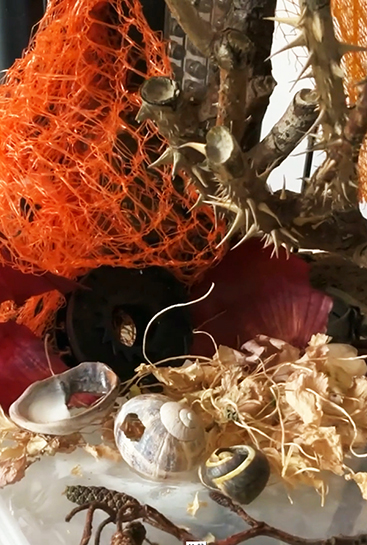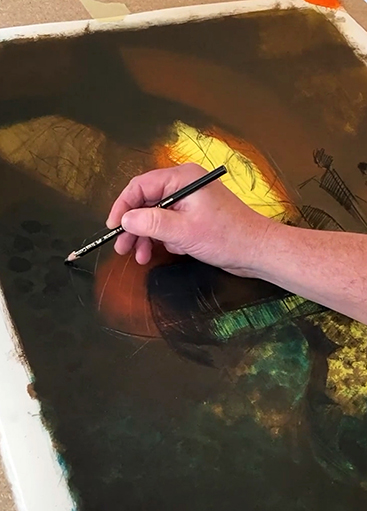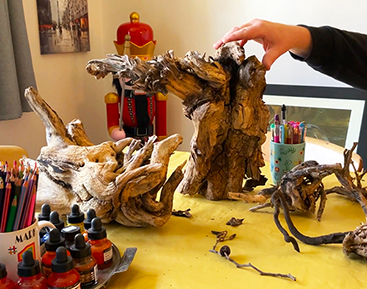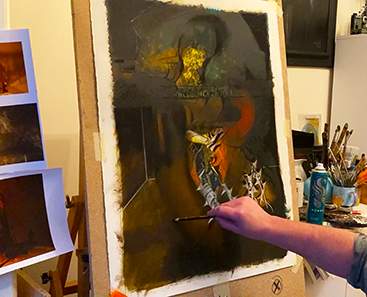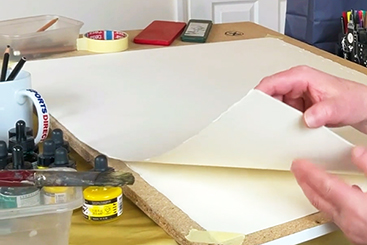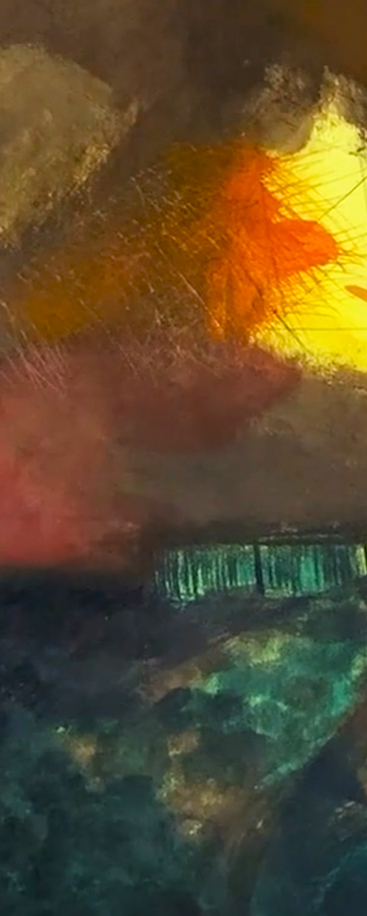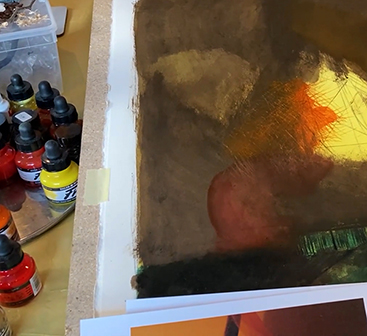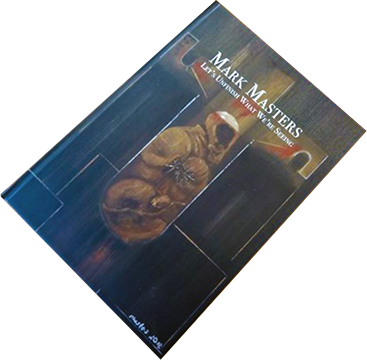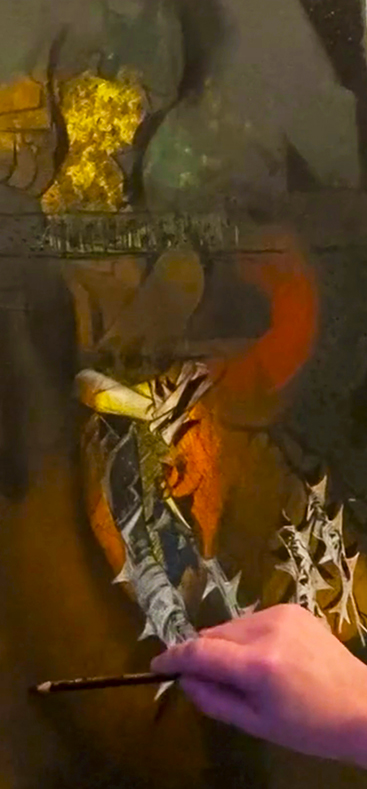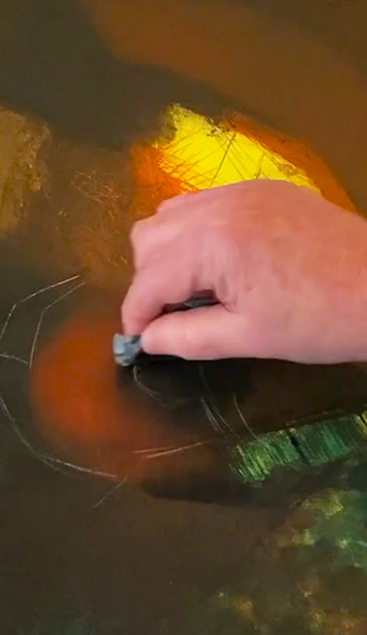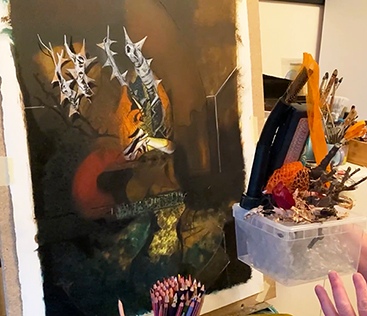 How do you participate in the course?
Simply join Anne's International School of Art.
Immediately after you have registered for the art school, you will receive a welcome email with direct links and your personal login to everything.
You can read more about the art school further down the page here.
Yes!
I am interested!

Not yet a member of
Anne's International School of Art?
No problem! Just sign up right here:
Immediately after you register for the art school, you will receive a welcome email with direct links and your personal login to the member pages where you will find the course.
About Anne's International School of Art
Anne's International School of Art is an online haven of inspiration and learning.
Immediately upon enrolling in the art school, you will receive full access to a cornucopia of educational and inspiring material on the member pages, as well as access to this unique course.
Click here to see everything else that you also get access to IMMEDIATELY after you join.
As a member, you will enjoy new tutorials on the member pages every single month – plus, you automatically get access to our special courses as and when we open for registrations for them.
Therefore, you never have to worry about missing out.
The courses automatically appear on your personal course overview, and on the membership home page, you can always get an overview of all the latest on the member pages.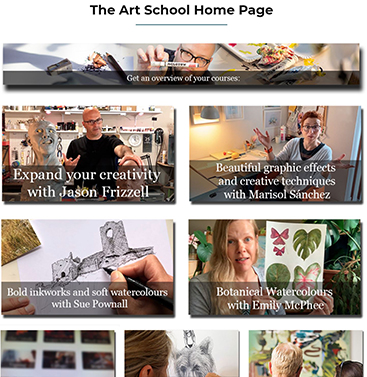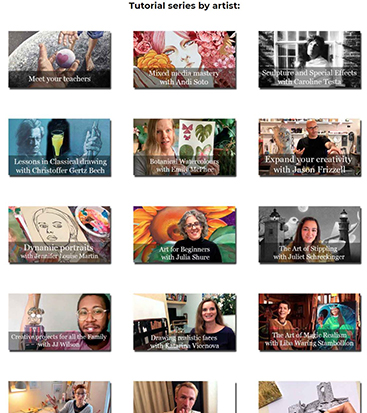 Have a question?
If you have any questions at all, feel free to write to us at:
 But first, please read our answers to frequently asked questions below:
➞ When do I get access to the course?
You will gain full access to the course, as well as access to all of the material on the art school's membership pages, as soon as you sign up to join Anne's International School of Art.
If you are already a member of the art school, you already have access to the courses when registrations are open.
➞ Do I have to show my art to you and/or to other members?
It's 100% up to you if you want to share any of your works.
As part of the art school, we have a special forum for members where you are more than welcome to share photos of your work – however, this is entirely voluntary.
In the forum you can see what others share and you have ample opportunity to discuss experiences and ideas with the other participants about the different modules.
Experiences are shared and feedback is provided and developed together, so it's very rewarding to join in.
➞ I don't have the time to complete the course until a few weeks' time. Can I still do it?
Most definitely yes! As long as you are still a member of Anne's International School of Art (in other words, you have an active membership), you have access to all of the courses you are enrolled in.
This means that you can enjoy them in your own time, whenever you are ready.
➞ How much does it cost?
You choose the price model that suits you best.
Our most popular price model has a 6 months commitment and is only USD$ 22 per month. The membership will be renewed monthly at the same price until the membership is cancelled.
When you are a member of the art school, you can participate in ALL of the additional online courses etc. that we offer - in addition to the new material that enters the art school every month.
In Anne's International School of Art, there is NEVER anything that costs extra.
➞ So what is the process once I sign up?
Immediately after registering, you will receive a welcome email with your personal login details to the art school member pages, where you will find everything.
➞ How do I renew or discontinue my membership?
Your membership starts on the date that you register.
The membership is automatically renewed monthly at that same price until you choose to cancel it yourself.
The membership fee is paid monthly on the same day of the month as the day you sign up.
You can discontinue your membership by writing to us at: support@annesartschool.com  Simply write to us no later than one business day before your membership is due to renew.